The Cut covers the latest news and updates in decommissioning, as well as a digest of the work of the Decom Mission team as we inform and independently represent decommissioning across the energy sector.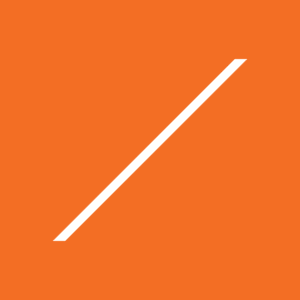 Welcome to The Cut.
In a world full of newsletters, why do we recommend that you spend a few minutes reading our first edition?
In a nutshell, if you're active in decommissioning across the energy industry – be that oil & gas, nuclear or renewables – there will be something of interest for you in here.
The objective is to keep you up-to-date with the latest developments in global decommissioning, as well as giving us an opportunity to help you understand what the Decom Mission team is working on, from the events we host to the cross-industry bodies and governmental agencies we're engaging with on your behalf.
Much of the work we undertake with our members is, by its nature, confidential. We offer impactful strategic and tactical advice and whilst we can't always tell you chapter and verse, our plan is to be able to share some of the results we've helping our members achieve. In this, we hope to inspire and motivate you to pursue your decom strategy.

Sam Long
Decom Mission CEO
In September and October, Decom Mission CEO Sam Long and Operations Director Callum Falconer have been busy representing members at a number of industry events, as well as taking time to advise member businesses at Deep Dive sessions, and guiding Decom Mission through Board elections, and Decommissioning Leadership Group and General AGMs.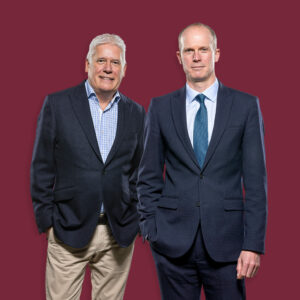 SPE Offshore Europe 2023
The Decom Mission team connected with members on stand and presented in the Future Opportunities theatre at the 50th anniversary SPE Offshore Europe.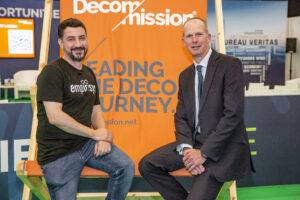 Having worked with theatre sponsor Bureau Veritas to curate a compelling agenda, both Sam and Callum led and participated in a series of panel discussions, underlining current concerns, areas of work, and developments in decom. The theatre also hosted the launch of the Decom Mission Annual Report Survey, delivered by Empirisys.
Decom Live @ Port of Blyth
The Audrey and Ensign topsides and jackets provided the perfect backdrop to discuss decom at Decom Live @ Port of Blyth. The fourth in the series of Decom Live events, it saw exhibitors, presenters and delegates gather at Port of Blyth's quayside decom base, operated by Thompsons of Prudhoe.
Reflecting on the event, Decom Mission CEO Sam Long said: "Decommissioning of energy infrastructure involves a wide variety of skills and services. In the case of offshore, oil and gas decommissioning, this also means services that are executed both on and offshore. In holding our Decom Live events at locations such as Port of Blyth we seek to underline the resulting complexity in these projects.
"With the Port and Thompsons of Prudhoe currently working on demolition of the Audrey and Ensign jackets and topsides this event was set against a visible reminder of the scale of the assets and the related technical challenges. In a thoroughly successful day Decom Mission ensured that the entire supply network, from asset owner and operator, to service and equipment provider had opportunities to network, walk the talk and attend a number of related panel sessions and presentations."
Engaging in Nuclear
Nuclear decommissioning remains a larger market than oil and gas decommissioning within Europe yet holds a relatively low profile. We are working to counter this through our continued work with the Nuclear Decommissioning Authority in the UK. Sam has recently attended events in Glasgow, Warrington and Newcastle to explore technical and commercial challenges in this space. With shared drivers, common engineering and project management principles and future challenges regarding personnel and skills we remain convinced that a joined up approach will not only improve outcomes but also increase opportunities for members
Board Appointments
In October four new appointments to the Decom Mission Board were made. Gareth Jones of Xodus, Bryan Smith of DeepOcean, Richard Lind of Ashtead Technology and Steve Andrew of ERM were appointed following a successful nomination process, which also saw Calum Crighton of Gilson Gray stepping into the Vice Chair role.
You can find out more about the members of the Board here.
Deep Dives
Sam and Callum regularly offer member companies private briefings and market updates, in sessions called Deep Dives. These confidential discussions, typically held in member premises, are designed to help raise awareness for both parties, enabling Decom Mission to better represent our members and helping them to find and deliver value in the decommissioning market. Should you be interested in holding a Deep Dive with them please get in touch.
The Decom Mission Annual Survey
Frustrated with inconsistent work schedules and unexpected deferments of decommissioning projects? Or concerned about a lack of skilled labour and training in the decommissioning sector? Tell us more.
The Decom Mission Annual Survey, delivered by Empirisys, is a survey of the global decommissioning supply network will be the first to provide primary insight into its current capability and capacity, as well as providing a snapshot of sentiment across the sector.
Coffee, Cake and Christmas Cheer
Join the Decom Mission team for the member-exclusive meet, including a summary of decommissioning in 2023 and anticipated activity in 2024.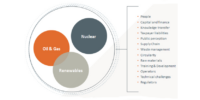 Same Problems, Different Industries | Engineering Challenges in Nuclear and Oil and Gas Decommissioning
Join Decom Mission, the Nuclear Decommissioning Authority and the Nuclear Industry Association as we deliberately compare and contrast engineering issues, challenges and successes in decommissioning between the two sectors.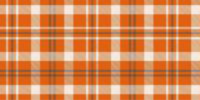 Burns Supper with Decommission
Join the decommissioning community for a Burns supper and ceilidh dancing.