Innovative engineering lies at the heart of decommissioning in the nuclear and oil and gas sectors, as we address the final life cycle stage for assets with common, but unique challenges. Do we approach these projects with shared thinking and principles or work within respective silos?
Join Decom Mission, the Nuclear Decommissioning Authority and the Nuclear Industry Association as we deliberately compare and contrast engineering issues, challenges and successes in decommissioning between the two sectors. Does it matter if it is harder to remove 40,000 tonnes from the North Sea than to cut up an irradiated 120mm pressure vessel? Or if remote handling of waste sludge in a storage pond is harder to resolve than reservoir isolation at 2km below the seabed? Do factors such as finance and personnel improve or hinder delivery within these projects?
Irrespective of where the challenge lies, the commonality of complex engineering, innovative ideas and challenging execution is clear, and this is an ideal environment to discuss and cultivate common thinking into our industries.
The diagram below illustrates the commonality and yet apparent disconnection of nuclear within decommissioning in the energy industry.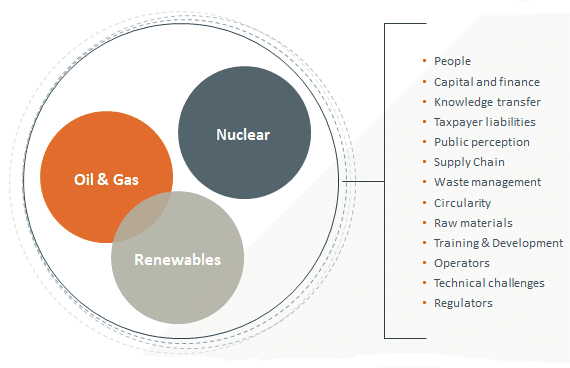 Format and Agenda
This free to attend event will follow a show and tell format, with speakers detailing existing, resolved and pending challenges from their respective sector, with the audience offering observations and commentary through interactive sessions.
A Pay Your Own Way dinner will precede the event on the evening of Wednesday 17th January. Activities on Thursday 18th will commence with networking opportunities, before moving into a series of presentations and interaction, lunch and then a forward look at the major challenges that remain ahead of us.
Call for speakers
We are keen to hear from prospectives speakers from all the Supply Network, (owners, operators, supply chain and technology providers) who have future or current challenges to share, alongside success stories of previous projects.
Can you tell a compelling story, do you believe that there are or could have been alternative means of tackling this issue? Are you interested in hearing of a different perspective on the same challenge.